This spring has been momentous. In addition to the changing of the seasons, March, April, May and June have seen major challenges for entrepreneurs in the form of COVID-19 and calls for racial justice and change. While there is still a lot of uncertainty and challenges, we are so inspired by the stories of entrepreneurs who have been able to adapt and overcome their obstacles.
Because this is such a long post, here are the major sections so you can jump to what interests you:
#OpenWeStand (even on the app)
When "business as usual" became a thing of the past, we dedicated ourselves to creating the #OpenWeStand sub-site specifically to help small- and medium-sized business owners come together and find resources to stay open, even if their doors were closed. You'll find blog posts, video courses, stories for inspiration, and a dedicated community area for asking questions.
We've updated our iOS and Android apps with all of the COVID-19 resources, as well as the improvements you'll read in the rest of the article. We also have new features, such as push notifications when you have people scheduling or purchasing from you. Have you updated your app lately?
COVID-19 Resources
You can do this! If you need a helping hand, we're here for you.
Above all, have faith in yourself. We have faith in you.
Website editor
For all of the updates in this section, after you log in and go to My Products, find your site then select Edit Website.
Cookies and tracking
If you've logged into your site recently, you'll have seen the changes we've made to cookies and tracking. It's important to us and, also important, it's the law.
Under Site Settings, we've now grouped all cookie and tracking options together in one Analytics & Tracking section. In addition to updating your own site notification, you may add the Facebook Pixel, the Pinterest Metatag, and Google Analytics code.
Getting paid and highlighting featured categories
We have three new additions when it comes to letting people pay you through your site: GoFundMe, gift cards through Square, and an increased number of PayPal buttons.
In your site, add a section and then look for Fundraising or GoFundMe. This gives you a way for your customers to support you if you have a special need.
You'll also see the option to add a gift card through Square. People can purchase your services, even if you're closed, and redeem their card later.
Finally, we've increased the limit of PayPal buttons to 15. Use each button to sell a single product, or enable customers to donate to a cause you choose.
If you have an Ecommerce plan, now you can also link any button to a product category to highlight products.
For all of our plans, we've now enabled the Featured Category layout. The slight animation effect makes it liked by a lot of our customers. Even better–link to any section on any page, or enter any URL. Ecommerce customers can also link to product categories. Add a section and give it a try.
Website Addons: Pop-up and Messaging
Want to do a pop-up box? What about giving people a way to leave you a message? How about two new website addons? Exciting!
Most people are familiar with the pop-up box. It appears in the middle of the user's screen the first time they visit a site. In our case, your pop-up box will show to visitors every 24 hours. Use your pop-up box to let people know about an exciting new product, or a service on a particular page. To add your own pop-up box, select Website and look for the Popup add-on. Customize your pop-up box and select Done. Remember to publish your site!
Something a bit new is Messaging. What's really cool about adding website messaging is that it looks a little like a chat bubble. When people click on it, a window opens where people can leave a message that gets sent to your email (and you can customize where that email goes, the welcome message and the thank you message). The best part about messaging is that it increases people contacting you, even if you already have a Contact Us form. As an added bonus–people can also choose to add themselves as subscribers to your email marketing list after their message is sent. Try it out!
Logo, color, and video headers
When it comes to your site's brand, you have two updates on your logo and color.
When you click on your logo on your home page, you'll see an Align option. Move your logo to the left or center, whatever works best for you. And on secondary pages, your max logo height is 104 pixels, which means that your navigation bar won't grow too tall and you don't have to worry about overhang interfering with your other pages.
Probably the most exciting, we have the option to add video in your header. Currently you must upload your video to Vimeo and link to your video there but we have some exciting new options coming soon. In the meantime, read the help article not only for how to add video but also for some best practices around header videos.
More video and image options
Speaking of video, we have many new video options. And all video options have the option to link to both YouTube and Vimeo videos. After you add a section, search for "Video" and try out the options that appear. Even the About sections have the option to use videos instead of images.
Ready to add more sections? We've also added two new Contact layouts with images. We've seen a growing trend of simple and clean contact sections, while using an image to represent your brand. (You might have to scroll to the bottom of the list of Contact layouts.)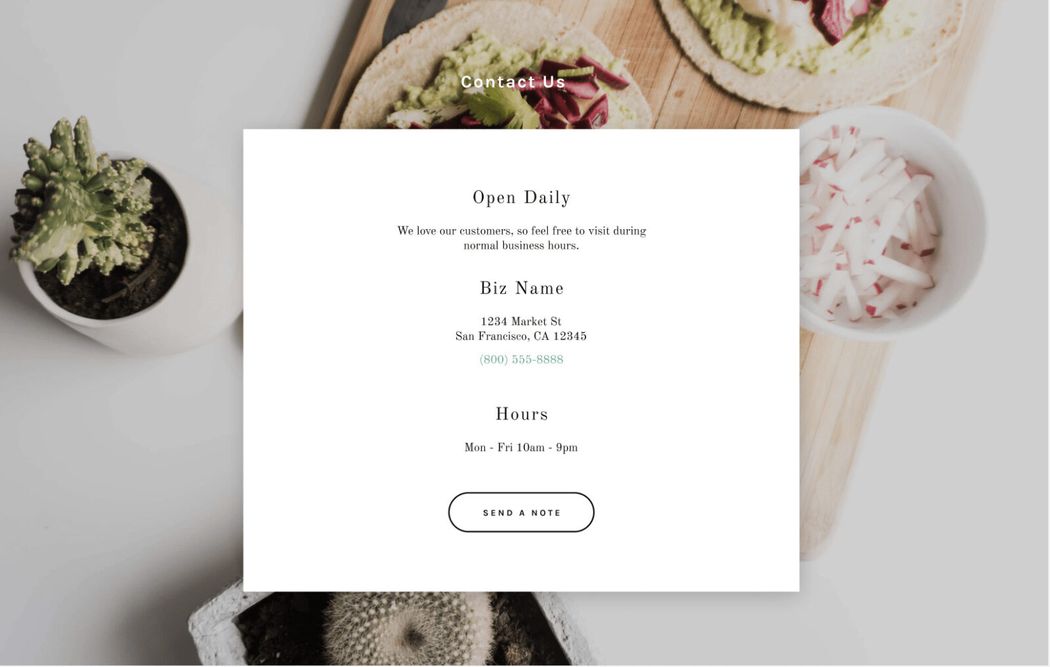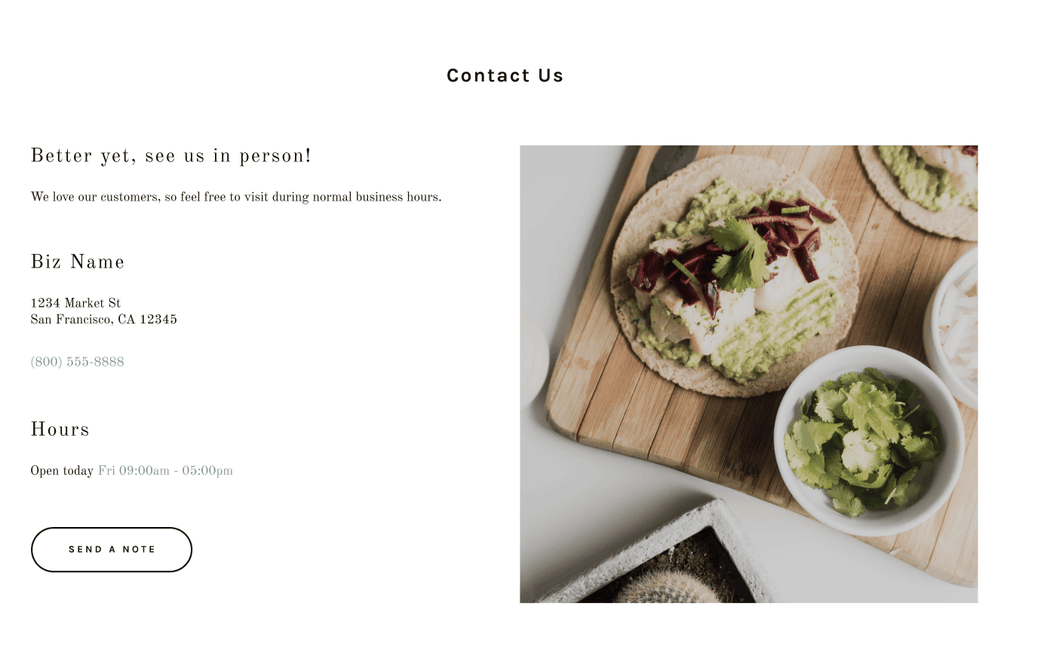 Do you know what's also cool about the Contact Us sections? We've also added the ability to toggle the map on and off for every layout option.
Media Library
The Media Library has been completely redesigned so that you upload images more easily and then manage which images were directly uploaded, which images come from connected social media accounts such as Facebook and Instagram, and which images are from our vast library of stock photos.
In addition to the typical image type (gif, png, jpg) we now let people upload PDF files:
Add a PDF file into the Media Library.
View your PDF file before inserting it into your website.
Add a description to your PDF file to enable easy searching.
Access your PDF file quickly from within your website editor.
The easiest way to access your Media Library is selecting My Photos from your Dashboard. Although anytime you're in your website editor and go to change image, you'll also be taken to your Media Library.

Once you have an image open, select the i in a circle to get more information about the image and even add alt text to help your site get found.
SEO Tool
The SEO Tool has also been redesigned and new features added. Not only is the flow better that helps you make your site more findable, but we've also enabled integration with Google Search Console.
From your Dashboard, go to Marketing then SEO.
You'll see at a glance what tasks you've completed (redoing them is easy), and what tasks you still have left to do.
You'll also see your average daily page position and rank on Google for the keywords you've targeted. SEO is a marathon, not a sprint, so check back from time to time.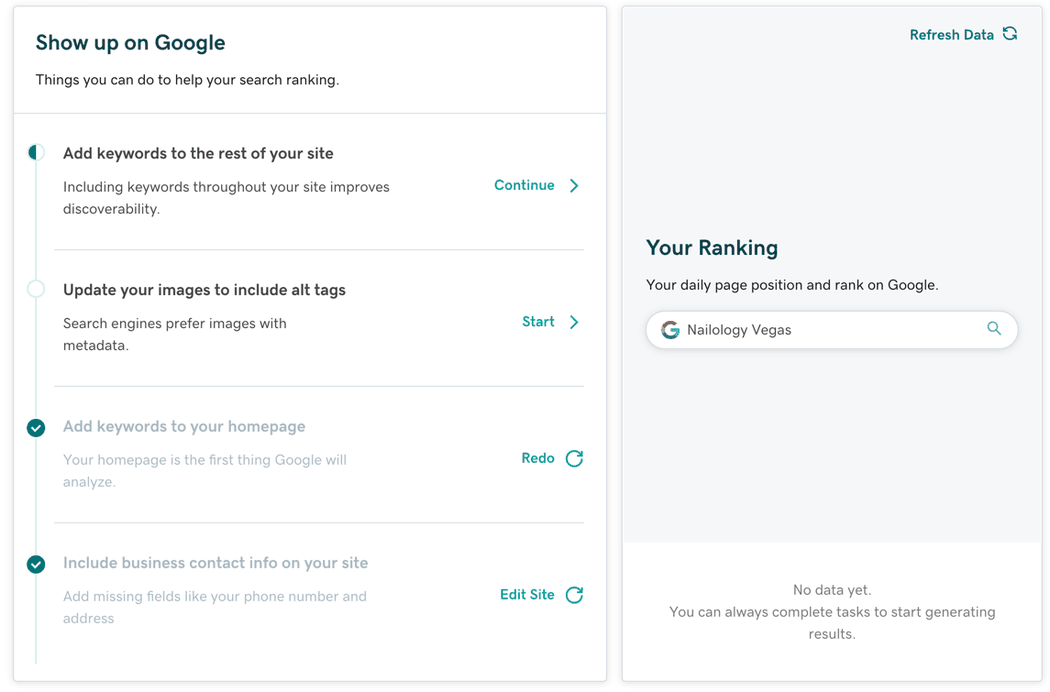 Online store improvements
Improvements for your online store affect two different large needs.
New local service options
The first is the ability to serve customers even if your doors are closed. Let people know if you offer in-person or curbside pickup, as well as local delivery options free or for a fee on all online orders to customers in a local area (as defined by a set of zip codes). If you'd like, enable the special instructions to allow customers to communicate delivery or pickup needs.
From your Dashboard, go to Settings and then under Online Store select Shipping. This is where you specify if people should pick up their items outside your store, or if you're willing to deliver locally.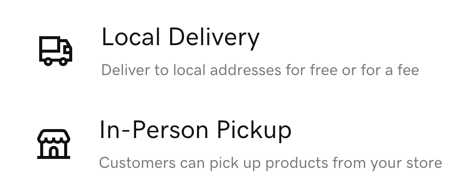 Marketplaces
The second is improvements to Marketplaces. If you sell items online, Marketplaces is your single place to manage all of your listings for Etsy, Amazon, Ebay, and others. New to the list is Google Shopping Actions (GSA), which lets you list products across different Google platforms. GSA is extremely convenient for customers to shop by using a universal shopping cart and instant checkout with saved payment information.
We've also improved the way you list and manage your products with the different services, and provide more guidance if certain products cannot be listed.
From your Dashboard, go to Store then Marketplaces. You'll need an Ecommerce plan to create products (see plans and pricing).

Online appointment improvements
As in-person appointments and events have moved online, we've moved with you. Anytime you add a new service (from your Dashboard, go to Appointments then Services), take a look at the Service Location area. Connect to Zoom for one-click integration, or add the URL for another online meeting service.
If you have an existing service, we have some hints for changing an online appointment or event location. You'll need to copy the old service or create a new service to avoid conflicting with already-scheduled services.
Your customers now have the ability to reschedule their own appointments. They need to be signed in and you can set boundaries as to when appointments are rescheduled, but this will save you time and hassle. While you have an existing or a new service open, scroll to the bottom and look for Allow customers to reschedule online. Select the toggle to turn the feature on or off as needed.
Everyone's forgetful sometimes. Resend confirmation emails to remind your customers of their appointment. From the Dashboard, go to Appointments then Calendar. Select a booking and then select Resend Booking Confirmation.
Social and messaging
Another important set of changes to cope with the new business landscape is the ability to share your status. Update Facebook, Yelp and Google My Business with your open or closed status, or if you're offering takeout or pickup or contactless delivery, and online services. From your Dashboard, go to the Marketing tab and then choose the social connection you'd like to update.
In February's What's New in Websites + Marketing blog post, we announced the ability to connect to Twitter. Since then, we've added the ability to compose tweets right from your Dashboard, as well as viewing your profile, followers and feed. Just go to Marketing then Twitter. Happy tweeting!
Got a beautiful Instagram feed that you'd like to show off on your website? From your Dashboard, select Website then Edit Site. In the website editor, add a section then look for the Social Feed section. While you still can add your four most recent images in a nice simple row, you have a new option to display your most recent 12 images in a collage that accommodates posts with different sizes (vertical, horizontal or square). You can only add one Social Feed to your site so if you don't see it as an option, look for it on another one of your pages. (And remember to connect your Facebook and Instagram accounts to each other.)
New How-To videos
Our Guides are creating new courses every month on our How-To page. Check out the latest three additions.
Websites + Marketing Help resources
If you have questions, check out these Website Builder resources. And remember — we offer 24/7 phone support. Call or chat with us!
Note: If you don't already have a Websites + Marketing account, start for free today. Need help with social media? The GoDaddy Social team can help with that.
The post Spring 2020 What's New in Websites + Marketing appeared first on GoDaddy Blog.